Chat software provides better customer service for website guests. LibraryH3lp routes chats to all available staff, to targeted sub-groups, and even individuals.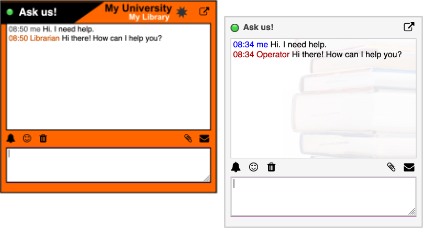 Customizable, white-label chat boxes.
Accessible via assistive technology.
Configurable chat box behaviors: embed on a page, float over the page, or pop out into separate window. Tabs? Sure!
Proactive chat invitations increase customer engagement.
Secured with SSL encryption. Optional transcript storage.
Integrated file sharing and e-mail transcript functions.
Integrates with Facebook, EBSCO, Summon, ProQuest, & more.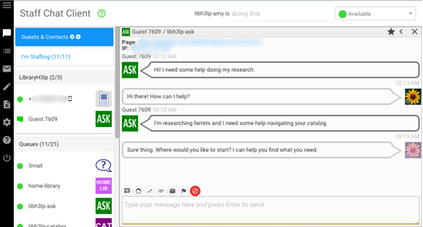 Flexible staffing options. Answer chats from:

Your computer on any browser or Jabber client.
Your tablet or smartphone with mobile Jabber app.

Customizable canned (pre-scripted) responses.
Auto-respond to waiting guests with customizable greeting.
Transfer chats between colleagues.
Integrated file sharing and e-mail transcript functions.
Can't fully answer? Tag any chat for later followup.
Busy? Finish current questions before receiving new ones.
Block abusive guests.
---
Knowledge base software provides 24/7 self-help for website guests. LibraryH3lp FAQs work standalone or embedded within any web page and include a mobile-specific version.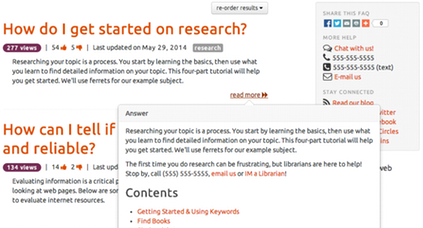 Search results instantly updated as visitors type.
Visitors can vote answers as helpful or not helpful.
Sort results by views, last updated, votes, or alphabetically.
Browse questions by topic.
Hover-over question previews to see the full answer.
Integrated live chat box and e-mail contact form.
Integrated mobile version for visitors on smartphones.
Embed your entire FAQ or portions within any web page.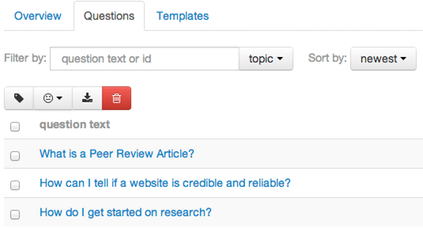 Make a FAQ public as a knowledge base for visitors.
Keep a FAQ internal as a staff-only knowledge base.
18 pre-configured themes to get you started.
Customize at will. All templates available to you. Or take advantage of our free design service to make the theme match your website.
In-place editing for easy content update.
Powerful dashboard for advanced FAQ management.
Free friendly URLs. Use your own domain.
Don't start over. Import your existing knowledge bases.
---
Email software provides better customer follow up. LibraryH3lp lets you seamlessly transition from chat to email and manage email in one place.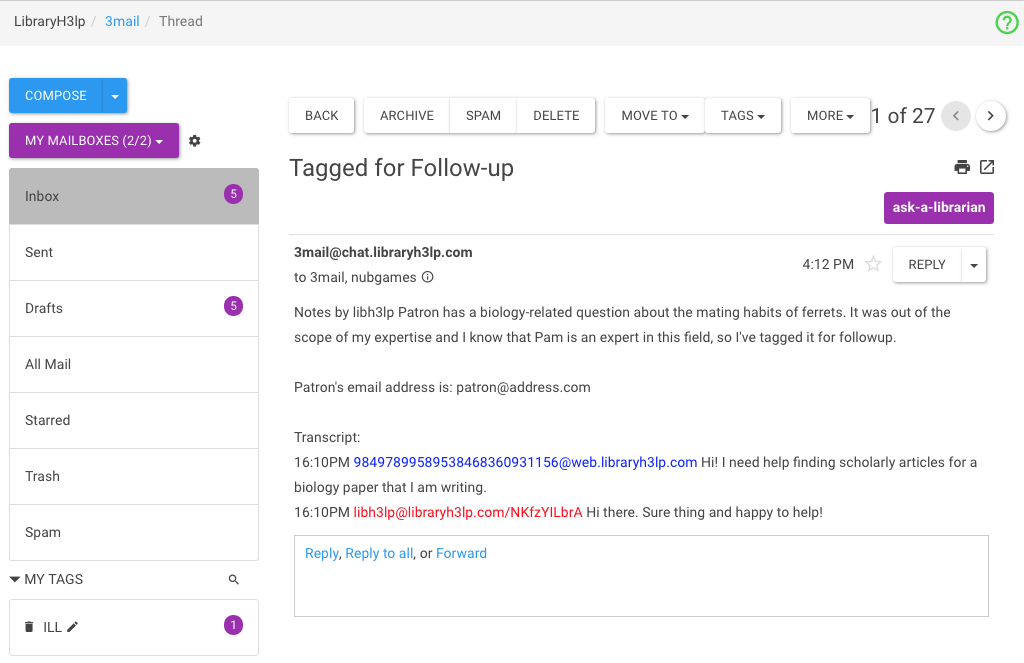 Easy transition from chat to email.
Shared mailboxes organized by department or group.
Organize emails with tags.
Retain unlimited email history with archive feature.
Forward email from external accounts and keep everything in one place.
Forward text messages sent when chat is offline to email. Replies go back as text messages to guests.
Customizable vacation auto-replies and signatures.
Support for web forms.
---
Text messaging software provides better customer service for mobile guests on-the-go. LibraryH3lp instantly routes texts to staff or saves texts sent after-hours for delivery later.
Instant message delivery direct to operator. No email middle step.
Same interface for answering both texts and website chats.
Transfer texts between colleagues and organizations.
Integrated file sharing and e-mail transcript functions.
Provide custom after-hours auto-reply or forward to email.
Forward voice calls to your regular phone or helpdesk.
No phone or other hardware needed.
Reuse your number with other products like ILLiad.
Integrates with Google Voice.
---
Provide consistent and superior customer service with customizable software workflows, built-in collaboration tools, and comprehensive statistics.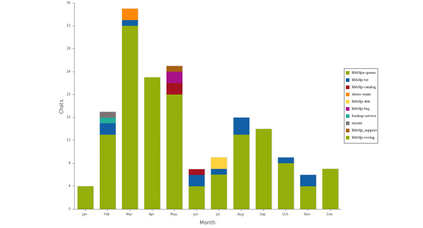 Monitor on-going chats in real-time. Intervene if needed by transferring chats to another person, branch, or department.
Browse chats and statistics. Download chat metadata in CSV format for import into your favorite spreadsheet program.
Analyze your service and traffic trends with interactive graphs. Data downloadable in CSV format.
Comprehensive reporting: chats by hour and day of week, chats per month, chats per queue, wait times by operator.
Route guests to specific experts or groups (depts, branches).
Route guests between groups based upon staff availability.
Visual cues to show staff where a guest starts a chat.
Build profiles staff can reference when answering chats. Shared credentials, common links, assignment hints & more.
Integrate your current e-mail reference system.
Your subscription can cover your entire organization.
---
Build and manage consortial virtual services of any size with LibraryH3lp.
Dynamic guest routing between staffing participants.
Cross-refer and transfer guests.
Communicate with colleagues using individual or group chat.
Flexibly cover local and shared responsibilities.
Don't have partners? Build a grassroots collaboration with any of the hundreds of organizations using LibraryH3lp.
---
Expand customer service hours through our back-up staffing partner, Chatstaff.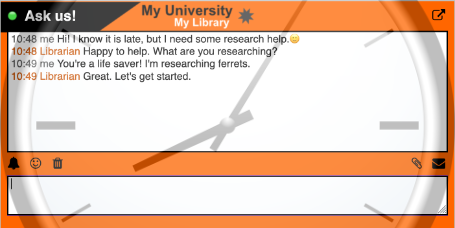 Staffed by professional MLS librarians.
Experienced with both academic and public libraries.
Flexible options: cover 24/7, or whenever your in-house service is offline, or select hours. The choice is yours.
Delivers high quality and effective services.
12 second average wait time!
Helps you implement your service and generate reports.